Savor the Authentic Flavors of North India with Night Diner's Online Feast
In the bustling digital age, the culinary landscape is evolving rapidly, and at the forefront of this revolution is Night Diner, a cloud kitchen that is redefining the way we experience North Indian cuisine. As a leader in the Indian cloud kitchen franchise industry, Night Diner stands out with its unique FOCO (Franchise Owned Company Operated) model, ensuring consistency in quality and service.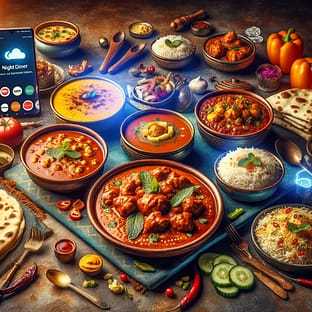 Authenticity at Your Fingertips Night Diner's menu is a testament to the rich culinary heritage of North India. Every dish is crafted with the utmost care, ensuring that each bite transports you to the heart of North India's bustling streets and tranquil countryside. From the creamy richness of Butter Chicken to the robust flavors of Dal Makhani, Night Diner promises an authentic experience that is just a click away.
Quality Meets Convenience The concept of a cloud kitchen might be modern, but the recipes Night Diner uses are deeply traditional. This blend of old and new ensures that while you enjoy the convenience of online ordering, the food that reaches your table is steeped in tradition. The ease of ordering through platforms like Zomato and Swiggy means you can have a gourmet meal without leaving the comfort of your home.
Innovative Dining Experience Night Diner is not just about food; it's about an experience. In a time when online interactions are replacing traditional dining experiences, Night Diner ensures that quality and authenticity are not compromised. The FOCO model also means that while the franchise owners invest, Night Diner operates the kitchen, maintaining a standard of excellence.
Franchising Opportunities For those looking to venture into the food and beverage industry, Night Diner offers lucrative franchising opportunities. With benefits like no rental or salary expenses, free marketing for the initial six months, and zero monthly expenses, it's an attractive proposition for aspiring entrepreneurs.
Join the Culinary Revolution As we continue to embrace the digital age, Night Diner is at the forefront, offering a seamless blend of tradition and modernity. Their commitment to quality and authentic flavors remains unwavering, making them a beacon for lovers of North Indian cuisine. Whether you're a food enthusiast or an aspiring entrepreneur, Night Diner invites you to join this culinary revolution.
#NightDinerFeast
#OnlineIndianCuisine
#AuthenticNorthIndian
#CloudKitchenMagic
#TasteOfTradition
#CulinaryInnovation
#FranchiseOpportunities
#SavorWithNightDiner