No Cooking, No Cleaning: Just Pure Culinary Delight with Any Time Food
In today's fast-paced world, the luxury of enjoying a sumptuous meal without the hassle of cooking or cleaning is more than just a convenience; it's a necessity for many. Enter Any Time Food, a trailblazer in the cloud kitchen realm, offering an unparalleled dining experience right at your doorstep. Here's how we make dining effortless and delightful.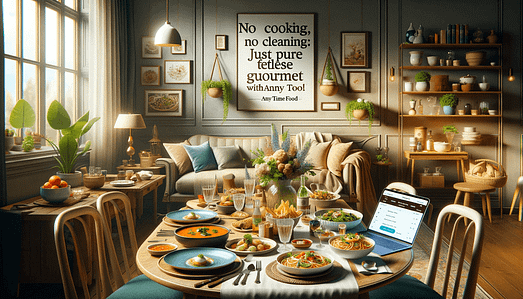 Embracing the Joy of Eating, Not Cooking
#NoCookingNoCleaning – this isn't just a hashtag; it's a lifestyle that Any Time Food proudly embodies. Our multi-cuisine menu is meticulously crafted to cater to a wide array of taste buds, ensuring that whether you're in the mood for spicy Indian curries or crave the subtle flavors of Mediterranean cuisine, we have you covered.
A Culinary Journey from the Comfort of Your Home
Any Time Food takes you on a gastronomic journey around the world. Imagine savoring the rich, aromatic flavors of Thai cuisine or the hearty, comforting essence of Italian dishes without stepping out of your home. Our chefs use authentic ingredients and recipes to bring these global flavors to your plate.
Quality and Convenience Hand in Hand
We understand that quality should never be compromised for convenience. That's why at Any Time Food, under our unique FOCO (Franchise Owned Company Operated) model, we ensure that each dish is prepared with the freshest ingredients, maintaining high standards of taste and hygiene.
Special Offers for Our Online Family
In celebration of our love for hassle-free dining, we're rolling out special offers for our online customers. Enjoy your first order with a delightful discount and explore our diverse menu. Follow us on social media and keep an eye out for #AnyTimeFoodSpecials for exclusive deals and updates.
Join the Culinary Revolution
With Any Time Food, say goodbye to the chores of cooking and cleaning and hello to a world of culinary delights. Embrace the ease and comfort of having your favorite meals delivered right to your door. We're more than just a cloud kitchen; we're a promise of quality, variety, and convenience.
Join us in this culinary revolution. Order now and experience the magic of #NoCookingNoCleaning with Any Time Food – where every meal is a celebration!
#NoFussFeast
#DineInDelight
#AnyTimeGourmet
#HassleFreeFoodie
#CloudKitchenCuisine
#EasyEatsATF
#CulinaryConvenience
#KitchenFreeGourmet
#ATFDiningBliss
#DeliciouslySimple