Night Diner: Where Traditional Tastes Meet Modern Convenience
In an era where the culinary world is constantly evolving, Night Diner stands as a beacon of tradition and modernity. We've taken the rich, deep flavors of North Indian cuisine and made them accessible to the digital age diner. It's a place where authenticity meets accessibility, where traditional tastes meet modern convenience.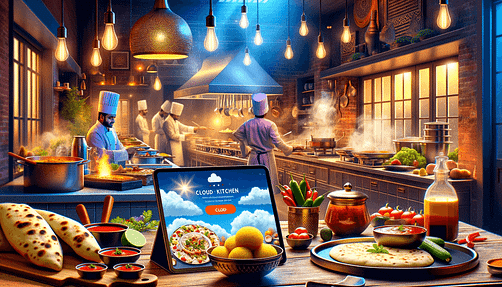 A Culinary Journey Through North India
North Indian cuisine is known for its vibrant spices, rich flavors, and diverse dishes. From the creamy gravies of Punjab to the tangy street foods of Delhi, this region's culinary heritage is as varied as it is delicious. At Night Diner, we honor these traditions. Our chefs craft each dish with respect to its origins, using authentic ingredients and time-honored cooking techniques.
Digital Dining at Its Finest
In today's fast-paced world, convenience is king. Understanding this, Night Diner has embraced technology to bring our exquisite cuisine to your doorstep. Whether it's through Zomato, Swiggy, or our own user-friendly app, ordering your favorite North Indian dish is just a few clicks away. No more waiting in long queues or traveling far for quality Indian food – it's all available at your fingertips.
Night Diner's FOCO Model – A Revolutionary Approach
Unique to Night Diner is our Franchise Owned Company Operated (FOCO) model. This innovative approach ensures that while the franchises are locally owned, they are operated by us, ensuring consistent quality and service across all outlets. This model not only supports local entrepreneurs but also guarantees that our customers receive the same exceptional Night Diner experience, no matter where they are.
Zero Hassle, Maximum Flavor
With our promise of zero rental and salary expenses for franchisees and free marketing for the initial six months, we make sure that our focus is squarely on what matters most – the food. This approach allows us to maintain the highest standards of quality and taste, ensuring that every dish you order is a testament to the rich culinary heritage of North India.
Engaging with Our Community
Night Diner isn't just about serving food; it's about building a community of food lovers. We engage with our customers through social media, offering not just mouth-watering cuisine but also a slice of North Indian culture. Follow our journey on social media with hashtags like #NightDinerDelights, #AuthenticFlavors, #ModernConvenience, and #NorthIndianCuisine.
In conclusion, Night Diner represents the perfect amalgamation of traditional Indian flavors and modern dining convenience. We invite you to embark on this delicious journey with us, where every meal is not just food but an experience to be cherished.
---
Join us on this culinary adventure and don't forget to share your experiences with us using
#NightDiner
#TraditionalTastes
#DigitalDining.
Explore. Order. Enjoy. Repeat.