From Our Kitchen to Your Couch: Exquisite North Indian Cuisine at a Click
In an age where convenience is king and culinary preferences are as diverse as India's rich tapestry of cultures, Night Diner stands out as a beacon of gastronomic excellence. We are more than just a food delivery service; we are a culinary journey that brings the most exquisite North Indian cuisine right to your couch.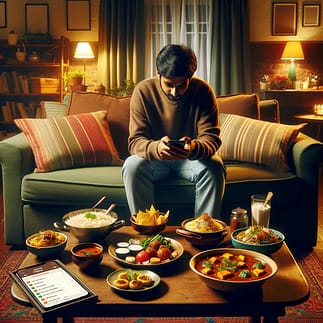 The Essence of North Indian Cuisine
North Indian cuisine, known for its aromatic spices, rich flavors, and diverse dishes, is a celebration of India's culinary heritage. At Night Diner, we honor this tradition with a menu that's a kaleidoscope of flavors. From the creamy, buttery goodness of our Dal Makhani to the robust spice-infused gravies of our Paneer Tikka Masala, each dish tells a story of culture and craftsmanship.
The Night Diner Difference
What sets Night Diner apart in the bustling world of cloud kitchens? Our commitment to authenticity, quality, and convenience. Our chefs are maestros of their craft, using age-old recipes and the freshest ingredients to bring you meals that are not just food, but an experience.
A Click Away
In today's fast-paced world, convenience is crucial. That's why our entire mouth-watering menu is just a click away. Whether you're craving a comforting bowl of Biryani or the tangy zest of a Chaat, Night Diner makes it easy to satisfy your cravings without leaving the comfort of your home.
Embracing Technology
Our innovative approach goes beyond the kitchen. We leverage the latest in digital technology to ensure a seamless ordering experience. From easy navigation to real-time order tracking, every aspect of Night Diner is designed to make your online food ordering experience as enjoyable as the meal itself.
Join the Night Diner Family
Every order you place is more than just a transaction; it's an invitation to join the Night Diner family. We're not just delivering food; we're delivering joy, one order at a time. Experience the best of North Indian cuisine from the comfort of your couch.
#NightDinerDelights
#NorthIndianCuisineAtAClick
#FromKitchenToCouch
#CloudKitchenMagic
#AuthenticFlavorsOnline
#IndianCuisineReimagined
#GourmetFoodDelivery
#TasteTheTradition
#CulinaryConvenience
#DineInDigital