From Cloud to Plate: The Revolutionary Convenience of Tipsy Tipsy's Cloud Kitchen
In an era where convenience is king, Tipsy Tipsy is redefining the way we experience gourmet dining at home. Our cloud kitchen model, a first in the Indian virtual food franchise industry, isn't just about delivering food; it's about bringing a revolution right to your plate. Let's dive into how Tipsy Tipsy is transforming the culinary landscape with its innovative approach.
The Cloud Kitchen Concept
At Tipsy Tipsy, our cloud kitchen operates without the trappings of a traditional restaurant. This means no dine-in space, no waiting in lines, and no compromises on quality. Our focus is solely on what matters most – preparing exquisite Chinese cuisine and ensuring it reaches you fresh and flavorful.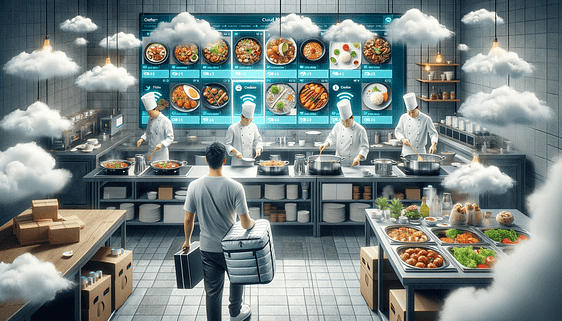 The Journey from Cloud to Plate
Precision in Preparation
Every dish at Tipsy Tipsy begins with expert chefs selecting the finest ingredients. Our kitchen is a symphony of efficiency and culinary excellence, where every Szechuan spice and every chopstick-full of fried rice is prepared with precision.
Seamless Ordering Experience
Ordering from Tipsy Tipsy is a breeze. Our digital platform is designed for ease, allowing you to browse our menu, select your favorites, and place an order within minutes. It's a seamless fusion of technology and taste.
Speedy and Reliable Delivery
Once your order is prepared, it embarks on a swift journey from our kitchen to your doorstep. Our delivery system is streamlined to ensure that your meal arrives not just quickly, but in perfect condition – as if you were served right at a restaurant.
The Benefits of Choosing a Cloud Kitchen
Unmatched Convenience
The foremost advantage of ordering from Tipsy Tipsy is the convenience it offers. Whether you're craving a late-night snack or planning a family dinner, gourmet Chinese cuisine is just a few clicks away.
Quality and Variety
Without the constraints of a physical restaurant, we focus exclusively on the quality of our food. Our menu is diverse, offering everything from classic favorites to unique creations, all prepared to perfection.
Affordable Luxury
We believe that fine dining doesn't have to break the bank. Our cloud kitchen model allows us to offer gourmet food at more affordable prices, bringing luxury dining into the comfort of your home.
Embracing the Future of Dining
Tipsy Tipsy isn't just a cloud kitchen; it's a culinary revolution. As we embrace the future of dining, we invite you to join us in this journey of taste, convenience, and innovation. From our kitchen to your plate, every meal is a testament to the transformative power of good food and smart technology.
#TipsyTipsyCloudKitchen
#FromCloudToPlate
#RevolutionaryDining
#GourmetAtYourDoorstep
#ChineseCuisineReimagined
#ConvenienceMeetsQuality
#InnovativeCulinaryExperience
#SeamlessFoodJourney
#TipsyTipsyInnovation
#CloudKitchenMagic