Feast Without Fuss: The Ease of Online Ordering with Any Time Food
In today's fast-paced world, convenience is king, especially when it comes to dining. Gone are the days of tedious meal prep or waiting in long queues. Welcome to the era of 'Feast Without Fuss' – a promise delivered by Any Time Food, a pioneer in the multi-cuisine cloud kitchen domain. With its seamless online ordering system, Any Time Food is revolutionizing how we experience gourmet dining from the comfort of our homes.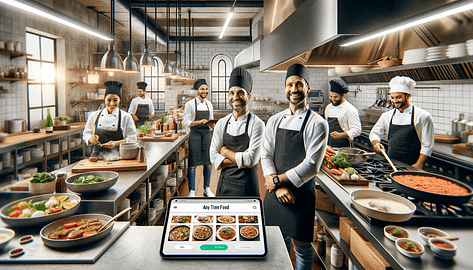 A Culinary World at Your Fingertips
At Any Time Food, the world is on your plate. Our extensive menu is a testament to the culinary expertise we bring to your table. From the spicy zest of Indian curries to the subtle flavors of European cuisine, every dish is crafted to perfection. And the best part? It's all just a few clicks away. Our user-friendly online platform ensures that your gourmet meal is just a tap away.
Convenience and Quality: A Match Made in Kitchen Heaven
We understand that time is precious. That's why our online ordering process is designed for speed and efficiency. But speed does not mean a compromise on quality. Each dish from Any Time Food is prepared with the freshest ingredients and utmost care, ensuring that your meal is not just fast, but also fabulous.
Personalized to Your Palate
No two taste buds are the same, which is why we offer customization options. Whether you prefer your meal less spicy or have specific dietary requirements, our online ordering system allows you to tailor your meal just the way you like it.
The Joy of Hassle-Free Dining
The FOCO (Franchise Owned Company Operated) model of Any Time Food takes the stress out of dining. Forget about the rental woes and salary expenses; we handle it all. Our focus is on providing you with a dining experience that is as enjoyable as it is easy.
Sustainable and Responsible Eating
In a world increasingly conscious about sustainability, Any Time Food is proud to be a responsible choice. Our packaging is Eco-friendly, and our operations are designed to minimize waste, making your dining experience not just delightful but also environmentally conscious.
Exclusive Offers and Rewards
Regular online orders with Any Time Food come with their perks. Our loyalty programs and special offers ensure that your gourmet journey with us is not just delicious but also rewarding.
Join the Any Time Food Family
Experience the magic of multi-cuisine dining with Any Time Food. Order online today and dive into a world of flavors without any fuss. It's time to transform your meal times into gourmet experiences that are just a click away.
#AnyTimeFood
#OnlineOrdering
#GourmetAtHome
#FeastWithoutFuss
#MultiCuisineDelight
#HassleFreeDining
#CulinaryConvenience