Diverse Delights Delivered: Explore Any Time Food's Multi-Cuisine Magic!
In the ever-evolving world of gastronomy, the quest for diverse and delectable dishes has never been more exhilarating. Enter Any Time Food, a beacon of culinary diversity, where the magic of multiple cuisines converges under one virtual roof. Our multi-cuisine cloud kitchen, part of "The Taste of Cloud," offers an array of flavors that cater to every palate, any time of the day.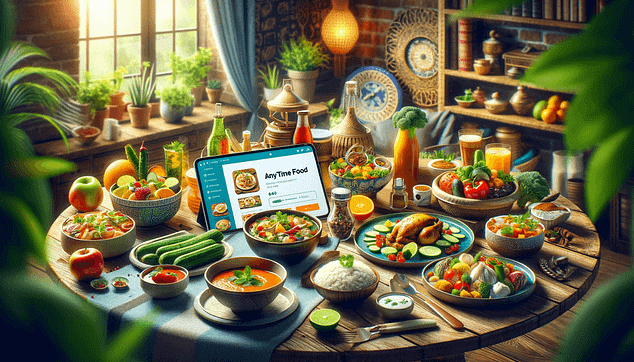 A Melting Pot of Flavors
Any Time Food transcends traditional culinary boundaries, bringing together the best of global cuisines. Whether you're craving the spicy zest of Indian curries, the comforting embrace of Italian pasta, the exotic allure of Thai flavors, or the classic simplicity of American burgers, our menu is a testament to culinary inclusivity. Each dish is meticulously crafted to deliver authenticity and innovation in every bite.
Convenience Meets Culinary Artistry
In the fast-paced digital era, convenience is king. Any Time Food marries the art of fine cuisine with the ease of online ordering. With just a few clicks, a world of flavors is at your doorstep. Our seamless interface ensures that your gourmet journey is hassle-free, making us the go-to choice for food connoisseurs who value both quality and convenience.
The FOCO Advantage
Operating under the unique Franchise Owned Company Operated (FOCO) model, Any Time Food sets a new standard in the Indian cloud kitchen franchise industry. This model ensures that while our franchises are locally owned, they are operated with the expertise and precision of a seasoned company team. This synergy leads to consistent quality, unparalleled service, and innovative culinary experiences.
Zero Hassle, Infinite Taste
With Any Time Food, the typical concerns of running a food business are off your plate. We offer our franchises remarkable benefits like no rental or salary expenses, initial 6-month free marketing, and zero monthly costs. This model enables us to focus solely on what we do best – delivering culinary excellence.
Sustainability and Responsibility
At Any Time Food, we're not just about tantalizing your taste buds. We're committed to sustainability and responsible cooking practices. From sourcing ingredients locally to minimizing food waste, our approach is as environmentally conscious as it is delicious.
Join the Culinary Revolution
Whether you're a food lover seeking new experiences or an entrepreneur looking for a thriving business opportunity, Any Time Food is your gateway to the future of dining.
Join us on this gastronomic adventure and discover why we're more than just a cloud kitchen – we're a culinary revolution, one delightful dish at a time.
#AnyTimeFood
#MultiCuisineMagic
#CloudKitchen
#GourmetOnline
#TasteOfCloud
#FOCOmodel
#CulinaryDiversity
#FoodieHeaven
#OnlineOrderingDelight
#SustainableEating