Delicious Dishes at Your Doorstep: Discover the Any Time Food Experience
In today's fast-paced world, the luxury of having a gourmet meal delivered right to your doorstep is not just a convenience; it's a necessity for many. Enter Any Time Food, the multi-cuisine cloud kitchen that's revolutionizing the way we think about home-delivered meals. With a unique mix of culinary excellence and business innovation, Any Time Food stands out in the Indian cloud kitchen franchise industry. Here's why it's more than just another food delivery service.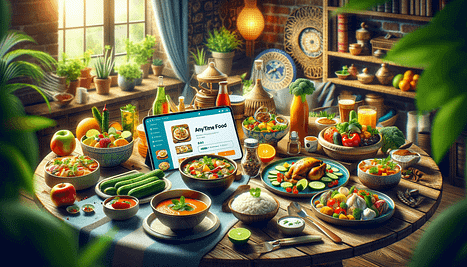 A Fusion of Global Cuisines
At the heart of Any Time Food's success is its diverse menu. Whether you're craving the spicy zest of Indian cuisine, the subtle flavors of Mediterranean dishes, or the comfort of Italian pasta, Any Time Food has it all. The menu is carefully curated to cater to a variety of palates, ensuring that every customer finds a dish that resonates with their taste buds.
Quality and Freshness Guaranteed
One might wonder how quality is maintained across such a broad spectrum of cuisines. The answer lies in Any Time Food's commitment to fresh, high-quality ingredients and expert preparation. Each dish is prepared with the utmost care, ensuring that what arrives at your doorstep is a culinary masterpiece.
The Business Edge
What sets Any Time Food apart is its innovative FOCO (Franchise Owned Company Operated) model. This approach combines astute business planning and execution with a unique fusion of cuisines. Franchisees benefit significantly, as they don't have to worry about rental costs, salary expenses, or initial marketing efforts. This model not only simplifies operations but also ensures a consistent quality of service and food across all franchises.
Convenience at Its Best
Any Time Food understands the importance of convenience in today's fast-paced lifestyle. That's why the ordering process is streamlined and user-friendly. Whether you're ordering through an app or website, a delicious meal is just a few clicks away. Plus, with rapid delivery services, your food arrives hot and fresh, every time.
Community and Sustainability
As a brand that cares, Any Time Food is committed to sustainable practices. From eco-friendly packaging to initiatives that support local communities, the brand goes beyond just serving food; it serves a purpose.
#AnyTimeFoodExperience
In conclusion, Any Time Food isn't just about food delivery; it's about bringing a high-quality, diverse dining experience to your doorstep. It's a testament to how innovative business models and culinary expertise can come together to create something extraordinary. So, why wait? Dive into the #AnyTimeFoodExperience and taste the difference for yourself!