"Elevate Your Mealtime: Order from Tipsy Tipsy Today"
In the hustle and bustle of modern life, finding time to enjoy a delicious, well-prepared meal can be a challenge. Enter Tipsy Tipsy, your solution to elevating everyday mealtimes into extraordinary culinary experiences. At Tipsy Tipsy, we believe that every meal should be a celebration of flavors, a journey through the rich tapestry of Chinese cuisine, delivered right to your doorstep.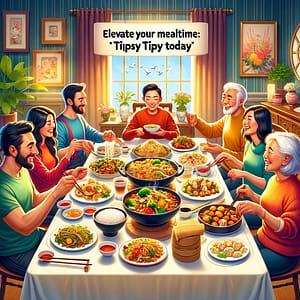 A Menu That Speaks Volumes Our menu at Tipsy Tipsy is a carefully crafted symphony of flavors, textures, and aromas. It's more than just food; it's a culinary adventure waiting to happen. From the sizzling woks of Szechuan to the subtle nuances of Cantonese cuisine, our dishes are a tribute to the diversity of China's culinary heritage. Whether you crave the fiery kick of Kung Pao Chicken or the comforting embrace of Char Siu Bao, our menu has something to tantalize every palate.
Quality Ingredients, Masterful Preparation At the heart of our culinary philosophy is a commitment to quality. We source the finest ingredients, ensuring that every dish we serve is not only delicious but also nutritious. Our chefs are masters of their craft, with years of experience in Chinese cuisine. They combine traditional techniques with contemporary culinary practices, creating dishes that are authentic yet modern.
Convenience at Your Fingertips In today's fast-paced world, convenience is key. This is where our cloud kitchen model shines. Ordering from Tipsy Tipsy is a breeze – a few clicks, and your order is on its way to you. Our state-of-the-art cloud kitchen ensures that your food is prepared, packed, and delivered with the utmost care. No more long waits or cold deliveries; we bring the warmth and freshness of our kitchen directly to your table.
Experience Beyond Dining Ordering from Tipsy Tipsy is more than just getting food delivered. It's an experience that engages all your senses. The vibrant colors of our dishes, the aromatic scents wafting from the box as you open it, and the explosion of flavors upon the first bite – all contribute to an unforgettable dining experience. We aim to transform your mealtime into a moment of joy and exploration.
Join the Culinary Revolution So, why wait? Elevate your mealtime today with Tipsy Tipsy. Whether it's a quick lunch, a family dinner, or a special occasion, we are here to make every meal memorable. Order now and join us on a culinary journey that promises delight with every bite.
Conclusion Tipsy Tipsy is not just about food delivery; it's about bringing a culinary revolution to your doorstep. It's about transforming mealtime from mundane to magnificent. With Tipsy Tipsy, you're not just ordering food; you're embracing a lifestyle that values quality, convenience, and exceptional taste.
#ElevateYourMealtime
#OrderTipsyTipsy
#GourmetChineseAtHome
#TipsyTipsyDelivers
#CloudKitchenDelicacies
#ChineseCuisineReimagined
#DineInStyleWithTipsyTipsy
#CulinaryConvenience
#TasteTheExcellence
#TipsyTipsyExperience